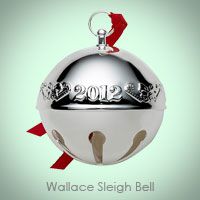 Each year, in late November and early December, millions of people engage in one of the most magical traditions known to man–decorating the Christmas tree. For many, the Christmas tree has religious importance.  For others it is a symbolic reference to the importance of family, togetherness, and peace. Regardless of one's individual view of the Christmas tree, it warms the heart and reminds us of the importance of tradition and family in all our lives.
Some of the earliest depictions of the Christmas tree indicate it was adorned with fruits, nuts, and paper decorations, later with candles and other baubles, and in modern times decorations and lights of all varieties. Christmas ornaments have become a cherished part of a family's holiday, often re-used each year. Some ornaments are even passed to future family generations as gifts, and serve to remind us of holidays past.
Ornaments come in many shapes, sizes and materials, but none quite have the longevity of silver. Silver Christmas ornaments carry a timeless beauty and magnificence year after year. Many of the world's top silver manufacturers offer silver ornaments each year, often as limited edition items available for a short time, then gone forever. Some ornaments are offered as annual editions, engraved to mark the year in which they were produced, serving to remind us of the holiday season they were acquired. Some of the more popular manufacturers include: Reed & Barton, Towle, and Wallace. These companies have been offering annual and single edition silver holiday ornaments for many Christmas seasons.
The Silver Superstore has been connecting silver manufacturers with individual Christmas traditions since 1997. They carry all of the most popular ornaments from the biggest names in silver. Silver Superstore offers custom silver engraving, friendly service, and the lowest prices on the web. Whether it be angels, bells, santas, or crosses, they have that special piece you'll be bringing out year after year.
Article and images used with permission from SilverSuperstore.com